Tracy's Breakout Muffins for Lockdown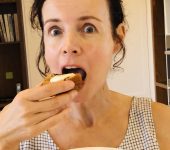 These are great with a cup of freshly brewed tea or coffee ?
Hope you like them, Tracy x
Ingredients:
1 cup unbleached plain flour (use SR flour if that is all you have)
1 cup wholemeal plain four (use SF flour if that is all you have)
4 level metric tsp of baking powder (eliminate if using SR flour)
2 large eggs (Free Range of course…gotta respect those girls!)
½ cup of preservative free dried fruit (sultanas, dates or prunes are good, but you can use whatever you have…go wild)
½ cup of neutral vegetable oil (I have used grapeseed, rice bran and olive oil successfully)
½ cup of honey
¾ cup of milk (soy or other milk is fine)
1 large apple or pear
1 tsp of spice (I often use cinnamon and clove, but ginger and all spice are also lovely…again use what you have or what you love)
1 orange for juicing (you can throw a little finely grated rind into the mix for more flavour if you like)
1 tbsp of apple cider vinegar
Butter for greasing muffin tins
Preheat oven to 175◦C fan forced. Grease the muffin tins thoroughly with butter.
Chop the dried fruit if using larger fruit. Juice the orange and combine with the dried fruit in a medium bowl to plump it up. You can throw in a little grated orange rind if you like. Chop the pear into small pieces or coarsely grate the apple (no need to remove skin from the fruit, just wash thoroughly) and then combine with the orange juice and dried fruit. Put aside while you prepare the batter.
Combine the flours, baking powder (if using plain flour) and spice and sift into a large mixing bowl. Then use a balloon whisk to mix very thoroughly.
In a second generous bowl whisk the eggs and then add oil and honey (put the oil in your measuring cup first and swirl to coat the inside of the cup, then after pouring out oil measure your honey in the same cup and it should pour out easily ?). Add milk and vinegar. Whisk your wet ingredients so they are well combined.
Pour the wet mixture into the dry mixture and gently combine with a wooden spoon until you have a thick batter. If you are using wholemeal flour and the batter is very heavy, just add a little more milk. You want the mix to be quite thick so you can spoon it into the tins. A few little lumps are ok. Don't overmix. Finally, fold in your fruit mix, holding back any excess juice (unless the mix it still a bit heavy…in which case, throw it all in).
Spoon into greased muffin tins and place on middle rack in oven. Cook for 20 mins until golden. Remove from the oven and stand for a few minutes, before turning out. I usually gently loosen under the top of the muffin with a bread and butter knife, so they turn out easily. Give them a sharp tap!
Devour with gusto (and a generous dollop of Greek yoghurt, if you feel inclined).
These muffins are best eaten fresh, but they will freeze well.
Note: If you feel creative, you can add a simple topping. I use a dusting of cinnamon sugar, mixed seeds, pecan nuts or a thin slice of apple or pear (pink lady apples look pretty). Just make sure to gently press your topping into the top of the muffins before you put them in the oven, so you don't lose bits when turning them out.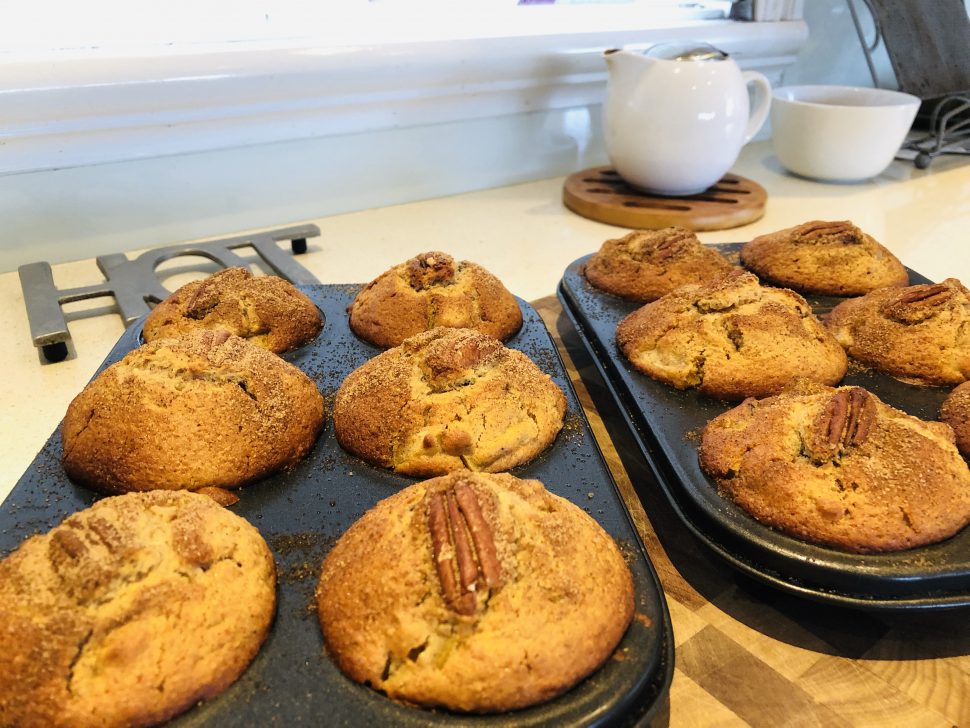 Enjoy xx